Is it time to say "Goodnight Hong Kong"?
The message from US President Joe Biden sent shudders through Wall Street and then financial markets around the world – "Beware of Hong Kong."
Thousands of American companies have looked to Hong Kong as a footstep into the Chinese market. Even CNN has its main Asia/Pacific operations there.
Over recent years, media companies, including Australia's ABC and Nine newspapers have found their journalists in trouble for stepping foot in China.
THE FUTURE OF HONG KONG
Now, in executive offices across Manhattan, the reality is starting to bite. The question is – how much longer will Hong Kong be a safe place for western companies to do business?
And for the people of Hong Kong – what happens next?
As China tightens its grip on the territory's legal and financial systems, what will that mean for their long-held ambitions for expanding in the world's second-largest economy and its market of 1.4 billion people?
A NEW WAY OF LIFE
Banks are now used to the shifting landscape in Hong Kong. While Hong Kong has felt like an extension of London or New York, tensions have flared between Beijing as western countries. The 50 year deal signed between the UK and China during the landmark handover has almost been thrown out.
For banks, the city isn't just a staging area to China, but also a valuable market in itself.
Joe Biden's warning was less about the new reality for Hong Kong, but more about the ongoing battle between China and the US for global supremacy. In this race, it seems, there can only be one winner.
For many companies in western countries, the China conundrum focuses on theyr reliance on trade, tourism and local customs. But for others, their presence in Hong Kong is no longer a safe bet. Many companies are looking to Seoul or Singapore as a potential new Asian headquarters.
HING KONG RESPONDS
Hong Kong has hit out at the US President.
Biden's advisory is "totally ridiculous and unfounded fear-mongering," a spokesman for the territory said in a statement. "The main victims of this latest fallout will sadly be those U.S. businesses and U.S. citizens who have taken Hong Kong as their home."
The United States imposed sanctions on seven Chinese officials over Beijing's crackdown on democracy in Hong Kong, Washington's latest effort to hold China accountable for what it calls an erosion of rule of law in the former British colony.
A spokesperson for the Commissioner of China's Ministry of Foreign Affairs in Hong Kong in a statement late on Friday strongly condemned the U.S. actions, saying they were blatant interference in Hong Kong and China's internal affairs.
"(U.S.) worries about Hong Kong's business environment is fake; its attempt to destroy Hong Kong's prosperity and stability, endanger China's national security, and hamper China's development is real," he said in the statement.
A Hong Kong government spokesman says Washington has repeatedly attempted to slander the legislation over the last year.
Fauci says the US is moving in the "wrong direction" against Covid-19
US Chief Medical Advisor Anthony Fauci says the US is moving in the "wrong direction" when it comes to combating the nation's new wave of Covid-19 infections
Fauci says a booster shot may help slow the spread of Covid-19 and reduce hospitalisations for vulnerable Americans.
Around half of Americans are fully vaccinated, but experts fear daily deaths could soar back up to 4,000 a day as the Delta variant spreads.
The Committee on Immunisation discussed the possibility of introducing a third booster shot last week. Fauci says the new data should push the country in that direction.
It comes as Israel's health ministry released statistics showing Pfizer's Covid-19 jab is 39% effective in keeping people from getting infected by the delta variant. However, is significantly reduces hospitalisations.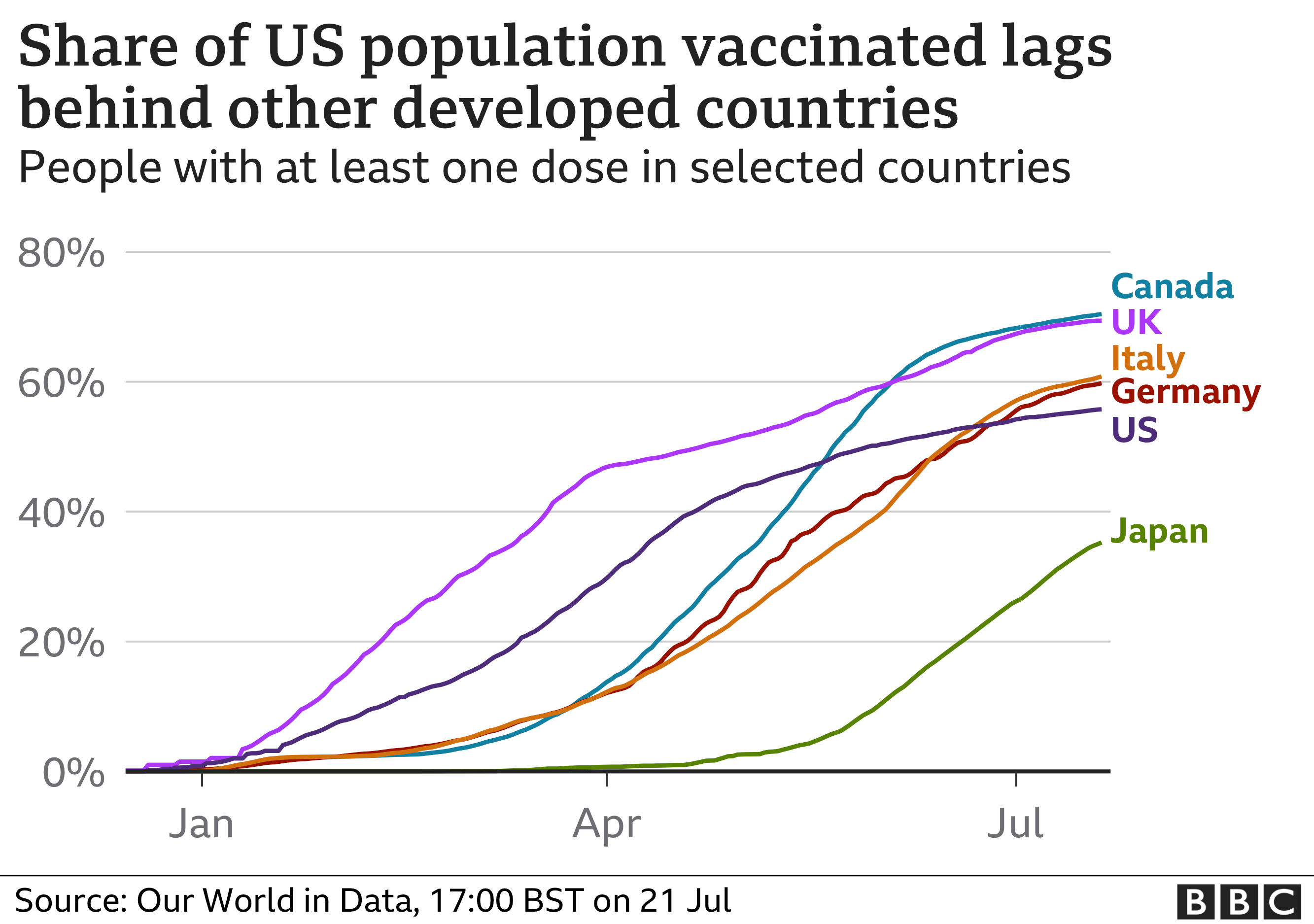 Fortress Australia faces anti-lockdown protests as case numbers rise
As a number of states in Fortress Australia amp up Covid-19 restrictions, authorities remain concerned over rising cases and protests
Covid-19 restrictions are continuing in the Australian cities of Melbourne, Sydney and Adelaide today. This comes as so called 'Fortress Australia' faces a growing number of cases in New South Wales.
Meanwhile, Victoria's premier, Daniel Andrews says he is "optimistic." Victoria plans to lift certain restrictions on Tuesday at midnight. 
Anti-lockdown protests across the country
Over the weekend, thousands of protesters gathered in various cities around the nation to protest Covid-19 stay at home orders. 
It comes as some residents dub the nation "fortress Australia" over harsh border policies. These have seen the country largely cut off from most parts of the world for months. 
Marc Stears from Sydney Uni's policy labs believes "Australians have been willing to put up with restrictions which elsewhere in the democratic world would have been entirely politically impossible".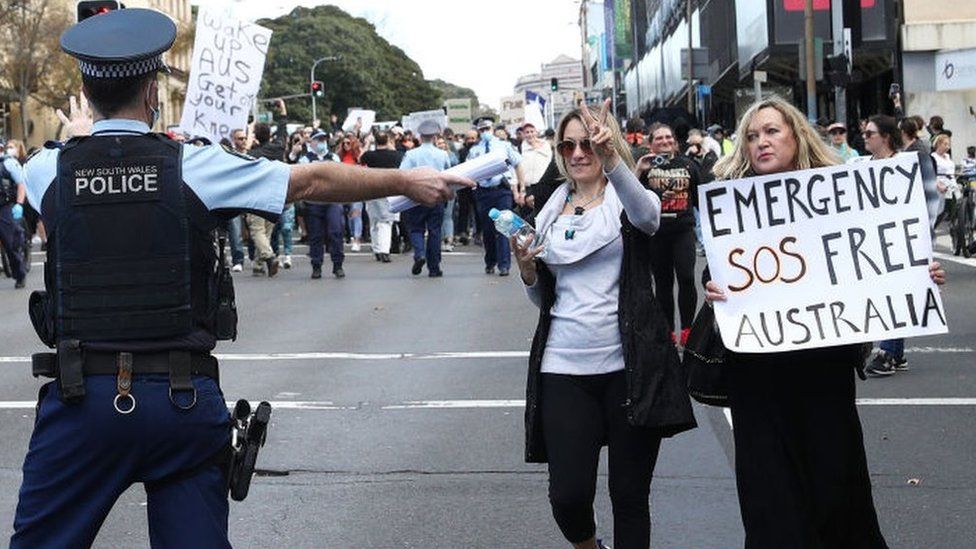 Australia's vaccine rollout
A recent ABC survey found that around 80 percent of residents are comfortable with strong border policies until authorities bring the pandemic under control.
It comes as the country's total vaccination rate stands at 11 percent – making it the lowest ranking OECD nation for vaccination rollout. 
Travel bubble bursts between Australia and NZ
New Zealand has suspended its travel bubble with Australia
The nation has halted its travel bubble arrangements for at least eight weeks as Australia continues to battle against the delta variant of COVID-19.
New Zealand Prime Minister Jacinda Ardern fronted the media and stated that "the Delta variant has materially changed the risk profile". 
From 11:59pm tonight, Australians will be unable to travel to New Zealand on a quarantine-free flight
This restriction will be in place for at least the next eight weeks.
The trans-tasman route is already closed to travellers flying into New Zealand from New South Wales, Victoria and South Australia as those states battle COVID-19 outbreaks. 
Constant disruption to trans-Tasman travel bubble
Flights to New Zealand inside the bubble have been paused and restarted as different Australian states have experienced COVID-19 outbreaks. 
"For the next seven days, we will have managed return flights for New Zealanders from all states and territories.