Will a robot replace you? | ticker VIEWS
Online supermarket Ocado is taking the human touch out of grocery packing
British online supermarket, Ocado is leading the way for automation technology. 3000 bots move around swiftly, at about four meters per second.
The Ocado warehouse is bigger than six Olympic-sized swimming pools. Now, other supermarkets around the world are using the license for this robot program.
Increasing grocery automation
The bots aim is to get groceries together quicker than humanly possible. They operate using advanced artificial intelligence. They look like washing machines on wheels and move in a flawless formation, within millimeters of each other.
The bots move quickly over large squares, with 21 containers underneath each square. Over 50,000 Ocado products fill the containers. The bots have an algorithm that tells them where to store the products.
When an order is received, the bots come to life and get straight to work. They know exactly what route and container they're working on, using their carefully orchestrated systems.
The bots have mechanisms that allow them to pick and pack products. They work together to help each other throughout the day, clearing the way for each other and eliminating any congestions.
There are bots for grabbing containers, bots to pick and pack the items, and bots to finalise the order and put it in the delivery van. It takes less than 15 minutes to complete an order, and has a 99% accuracy rate.
Improving accuracy, cutting waste
Ocado is 21 years old and used traditional systems for many years. They worked with conveyor belts and cranes. However, this system is prone to human error and less productivity. Years ago, the orders took three hours to complete.
The new system is helping with productivity, cutting back on waste, improving accuracy and customer satisfaction.
Other supermarkets are hiring robots
Ocado is at the forefront of the online supermarket game, by using the latest automated technology. They now license this program to several major grocers around the world in the US, France, and Australia.
Although, according to market forecasting company Oxford Economics, up to 20 million manufacturing jobs around the world could be lost to robots by 2030.
The ultimate end goal is to have warehouses run entirely by robots. Ocado now has a stock market value of over $22 billion and is a publicly-traded company.
T-Mobile confirms shutdown of Sprint's LTE network
America's T-Mobile has revealed its takeover of Sprint Mobile, and confirmed the shutdown of the Sprint LTE network
T Mobile has committed to a June 30, 20-22 shutdown date of Sprint's LTE network.
It's an expected move as T-Mobile continues to absorb Sprint's network and customers into its own base.
T-Mobile says that "most" Sprint LTE and 5G devices can work with its LTE or 5G network. It adds that those devices "will continue to operate on T-Mobile's LTE and 5G networks," so long as those Sprint users upgrade from Sprint-issued SIM cards to ones from T-Mobile. You will also need to make sure that Voice over LTE (also known as VoLTE) is enabled for voice calls. 
The carrier adds that it will be contacting those who might be impacted by the switch, stating that it already "began sending notifications late last year."
A third of Sprint customers have already been moved onto the T-Mobile network.
American Airlines Now Offers Free Inflight Access to TikTok
Free TikTok has arrived on flights operated by American Airlines
Passengers will be able to use the app for up to 30 minutes for free, which gives them time to watch at least ten of the new, longer TikToks.
The move to make TikTok available to travelers comes as airlines are trying to reignite the sector which has been hit hard by COVID.
Customers will be able to log into their TikTok accounts by enabling airplane mode, connecting to the "AA-Inflight" signal, and selecting the TikTok ad for the free access in the Wi-Fi portal. For those who do not have an account on the platform, American Airlines is also allowing travelers to download the app inflight, free of charge.
At this time, it's unknown whether TikTok will remain a permanent inflight option, as the addition is "promotional" in nature.
Researchers reveal China's huge network of fake social media profiles
A new study has revealed that China is using a network of fake social media profiles to push pro-China rhetoric and discredit opponents
Researchers have uncovered a sprawling network of over 350 fake social media profiles China's using to push a pro-China rhetoric.
According to the Centre for Information Resilience (CIR) report, the network's goal is to delegitimise the West and improve China's international perception.
Fake users in the network shared large amounts of content about issues like gun laws and race politics. The fake users also used the accounts to criticise opponents to the regime.
The study found a network of fake profiles circulating political cartoons
The cartoons negatively depict critics such as exiled Chinese tycoon Guo Wengui, whistleblower scientist Li-Meng Yang, and Steve Bannon, former political strategist for Donald Trump.
China has accused all of them for spreading disinformation including incorrect information about Covid-19.
The network also used the accounts to highlight human rights concerns in the US. Some of the posts cited the murder of George Floyd and hate crimes against Asians.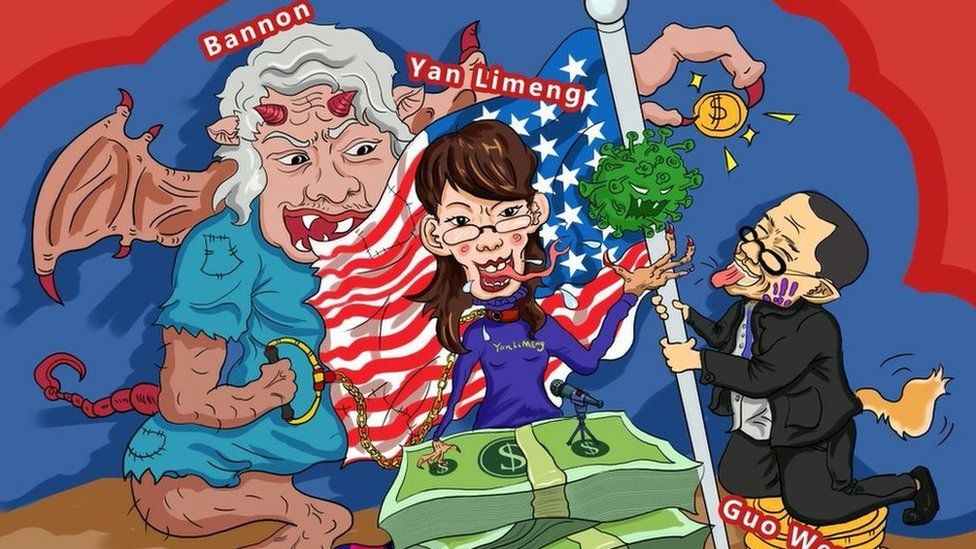 China's multi-platform fake social network
The accounts are across Twitter, Facebook, Instagram and Youtube.
Some of the accounts use entirely fake AI-generated profile pictures, whereas bots appear to have hijacked some other accounts.
There's not concrete evidence that links the network to the Chinese government other than speculation from experts. The CIR says the network resembles other networks Twitter and Facebook have taken down previously.
Who are the fake users?
The researchers found most of the fake profiles use AI-generated faces. A reverse image source cannot search for these images.
The CIR says fake profile pictures in disinformation campaigns are becoming more common. It was able to identify fake images by lining up the position of their eyes.
They say that fake images always tend to put eyes in the same location of an image. Other signs of a synthetic image include blurred hair edges, strangely-angled teeth, and blurred objects around the face.
China responds with campaign against misinformation
This comes as China launches a campaign against fake news to 'cleanse the cyberspace' of 'fake or harmful' information and unlicensed citizen journalists.
The campaign is a joint effort with ten regulatory agencies, which plan on hitting Chinese social media platforms like WeChat and Douyin.
Some of the accounts denied human right abuses in Xinjiang
Some of the fake profiles also denied any human rights abuses against Muslim people in the Xinjiang region. One post called the allegations, "lies fabricated by the United States and the West".
Many of the Facebook accounts appear to have Turkish names. The researchers believe these accounts once belonged to real people before being hijacked or sold.
The network also appears to have hijacked some dormant accounts on Youtube which previously posted in English or German. After being dormant for years, these accounts suddenly started posting Chinese content from official state broadcasters.