Researchers reveal China's huge network of fake social media profiles
A new study has revealed that China is using a network of fake social media profiles to push pro-China rhetoric and discredit opponents
Researchers have uncovered a sprawling network of over 350 fake social media profiles China's using to push a pro-China rhetoric.
According to the Centre for Information Resilience (CIR) report, the network's goal is to delegitimise the West and improve China's international perception.
Fake users in the network shared large amounts of content about issues like gun laws and race politics. The fake users also used the accounts to criticise opponents to the regime.
The study found a network of fake profiles circulating political cartoons
The cartoons negatively depict critics such as exiled Chinese tycoon Guo Wengui, whistleblower scientist Li-Meng Yang, and Steve Bannon, former political strategist for Donald Trump.
China has accused all of them for spreading disinformation including incorrect information about Covid-19.
The network also used the accounts to highlight human rights concerns in the US. Some of the posts cited the murder of George Floyd and hate crimes against Asians.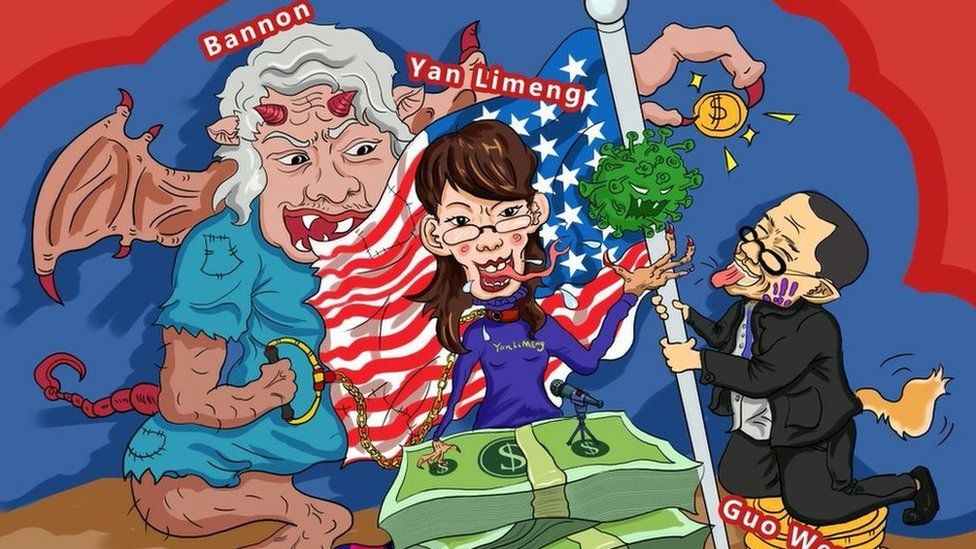 China's multi-platform fake social network
The accounts are across Twitter, Facebook, Instagram and Youtube.
Some of the accounts use entirely fake AI-generated profile pictures, whereas bots appear to have hijacked some other accounts.
There's not concrete evidence that links the network to the Chinese government other than speculation from experts. The CIR says the network resembles other networks Twitter and Facebook have taken down previously.
Who are the fake users?
The researchers found most of the fake profiles use AI-generated faces. A reverse image source cannot search for these images.
The CIR says fake profile pictures in disinformation campaigns are becoming more common. It was able to identify fake images by lining up the position of their eyes.
They say that fake images always tend to put eyes in the same location of an image. Other signs of a synthetic image include blurred hair edges, strangely-angled teeth, and blurred objects around the face.
China responds with campaign against misinformation
This comes as China launches a campaign against fake news to 'cleanse the cyberspace' of 'fake or harmful' information and unlicensed citizen journalists.
The campaign is a joint effort with ten regulatory agencies, which plan on hitting Chinese social media platforms like WeChat and Douyin.
Some of the accounts denied human right abuses in Xinjiang
Some of the fake profiles also denied any human rights abuses against Muslim people in the Xinjiang region. One post called the allegations, "lies fabricated by the United States and the West".
Many of the Facebook accounts appear to have Turkish names. The researchers believe these accounts once belonged to real people before being hijacked or sold.
The network also appears to have hijacked some dormant accounts on Youtube which previously posted in English or German. After being dormant for years, these accounts suddenly started posting Chinese content from official state broadcasters.
China seeks to establish itself as EV leads
China's dominance in the electric vehicle (EV) market is reshaping the global automotive landscape, as acknowledged by Elon Musk, who views Chinese car companies as Tesla's most formidable competitors.
Beyond being a manufacturing hub, China has excelled in EV development, influencing the industry across resource refining, battery production, software, and manufacturing. Established brands such as Audi, Toyota, and BMW are now collaborating with Chinese partners for EV platforms, batteries, and production. This shift is evident in Australia, where China-made car sales have surged 16-fold in the last five years, and top-selling EVs are predominantly Chinese.
Leading Chinese brands like BYD, SAIC Motor's MG, and Chery are making significant strides in Australia, with ambitious plans and models that outperform established competitors. China's impact extends beyond its borders, making it a driving force in the global EV market, shaping growth, innovation, and competition in sustainable mobility.
Is remote learning here to stay?
The Great Transformation – how will we learn in the futre?

The rise of the digital age has transformed news, media and entertainment and there are signs that it may affect education as well.
Host of The Great Transformation Professor Tim Harcourt from the University of Technology Sydney, gives his predictions about how we will learn in the future.
#featured #the great transformation #tgt
Can this climate group agree on anything?
The global climate summit has hit a roadblock as delegates clash over the contentious issue of a fossil fuel phase-out.

Tensions reached a fever pitch after OPEC nations vehemently pushed back against the proposed measures, leading to an impasse that threatens progress on tackling climate change.
As world leaders gathered in an effort to accelerate the transition away from fossil fuels and limit global warming, the negotiations took an unexpected turn.
The deadlock has left environmental activists around the world frustrated, as hopes were high for a breakthrough agreement. #featured #climate #cop28