Researchers reveal China's huge network of fake social media profiles
A new study has revealed that China is using a network of fake social media profiles to push pro-China rhetoric and discredit opponents
Researchers have uncovered a sprawling network of over 350 fake social media profiles China's using to push a pro-China rhetoric.
According to the Centre for Information Resilience (CIR) report, the network's goal is to delegitimise the West and improve China's international perception.
Fake users in the network shared large amounts of content about issues like gun laws and race politics. The fake users also used the accounts to criticise opponents to the regime.
The study found a network of fake profiles circulating political cartoons
The cartoons negatively depict critics such as exiled Chinese tycoon Guo Wengui, whistleblower scientist Li-Meng Yang, and Steve Bannon, former political strategist for Donald Trump.
China has accused all of them for spreading disinformation including incorrect information about Covid-19.
The network also used the accounts to highlight human rights concerns in the US. Some of the posts cited the murder of George Floyd and hate crimes against Asians.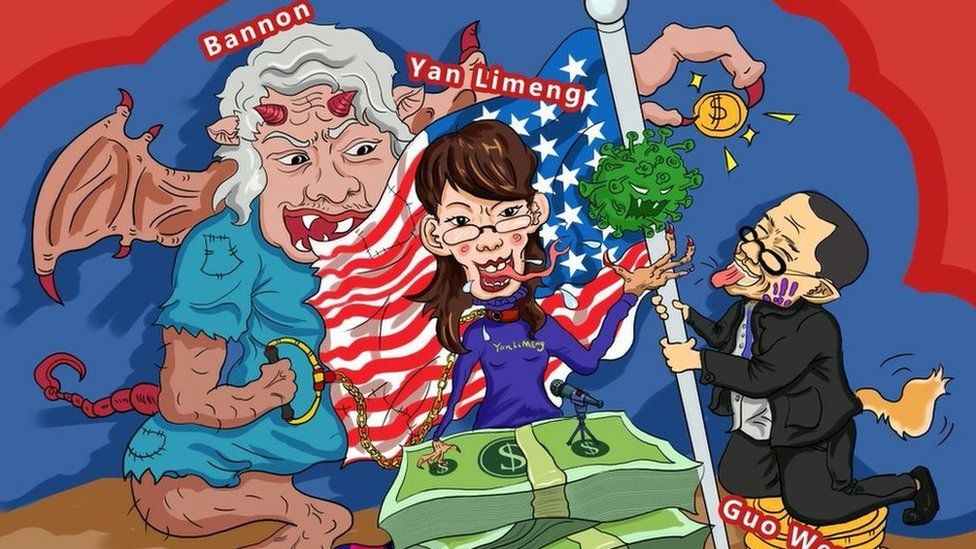 China's multi-platform fake social network
The accounts are across Twitter, Facebook, Instagram and Youtube.
Some of the accounts use entirely fake AI-generated profile pictures, whereas bots appear to have hijacked some other accounts.
There's not concrete evidence that links the network to the Chinese government other than speculation from experts. The CIR says the network resembles other networks Twitter and Facebook have taken down previously.
Who are the fake users?
The researchers found most of the fake profiles use AI-generated faces. A reverse image source cannot search for these images.
The CIR says fake profile pictures in disinformation campaigns are becoming more common. It was able to identify fake images by lining up the position of their eyes.
They say that fake images always tend to put eyes in the same location of an image. Other signs of a synthetic image include blurred hair edges, strangely-angled teeth, and blurred objects around the face.
China responds with campaign against misinformation
This comes as China launches a campaign against fake news to 'cleanse the cyberspace' of 'fake or harmful' information and unlicensed citizen journalists.
The campaign is a joint effort with ten regulatory agencies, which plan on hitting Chinese social media platforms like WeChat and Douyin.
Some of the accounts denied human right abuses in Xinjiang
Some of the fake profiles also denied any human rights abuses against Muslim people in the Xinjiang region. One post called the allegations, "lies fabricated by the United States and the West".
Many of the Facebook accounts appear to have Turkish names. The researchers believe these accounts once belonged to real people before being hijacked or sold.
The network also appears to have hijacked some dormant accounts on Youtube which previously posted in English or German. After being dormant for years, these accounts suddenly started posting Chinese content from official state broadcasters.
ChatGPT creator releases tool to detect A.I. generated text
OpenAI has released a software tool that can identify if text has been generated by artificial intelligence
The company behind the popular chatbot ChatGPT says it has trained a language model to distinguish between something written by a human, and A.I.
'AI Classifier' uses a variety of providers to address issues such as automated misinformation campaigns and academic dishonesty.
The detection tool is very unreliable on texts under one thousand characters, and AI-written text can be edited to trick the classifier.
Many schools across the world have already banned ChatGPT from being used for projects.
Elon Musk asks court to throw case out
Twitter CEO Elon Musk has asked a judge in the U.S. to throw out a case against him

The suit claims Musk's delayed disclosure over his large stake in the social media giant defrauded shareholders, who sold out at artificially lower prices.
Musk says investors in the proposed class action have no independent right to obtain damages.
The CEO believes he properly disclosed his stakes in Tesla and the former SolarCity Corp on several occasions, as per requirements.
Samsung reports lowest quarterly profit in eight years
Samsung has reported its lowest quarterly profit in eight years, dropping 69 per cent
The company believes sluggish demand and macroeconomic uncertainty will make for a tough first half, though demand will likely recover in the second half.
The South Korean tech giant made $3.5billion profit for the quarter – the lowest since 2014 – with revenue down eight per cent.
In its chip business, profits also plunged when compared to year ago.
Memory chip prices are widely expected to decline further in the first quarter as customers continue to hold off purchases and use up existing inventory while device demand remains depressed.