Researchers reveal China's huge network of fake social media profiles
A new study has revealed that China is using a network of fake social media profiles to push pro-China rhetoric and discredit opponents
Researchers have uncovered a sprawling network of over 350 fake social media profiles China's using to push a pro-China rhetoric.
According to the Centre for Information Resilience (CIR) report, the network's goal is to delegitimise the West and improve China's international perception.
Fake users in the network shared large amounts of content about issues like gun laws and race politics. The fake users also used the accounts to criticise opponents to the regime.
The study found a network of fake profiles circulating political cartoons
The cartoons negatively depict critics such as exiled Chinese tycoon Guo Wengui, whistleblower scientist Li-Meng Yang, and Steve Bannon, former political strategist for Donald Trump.
China has accused all of them for spreading disinformation including incorrect information about Covid-19.
The network also used the accounts to highlight human rights concerns in the US. Some of the posts cited the murder of George Floyd and hate crimes against Asians.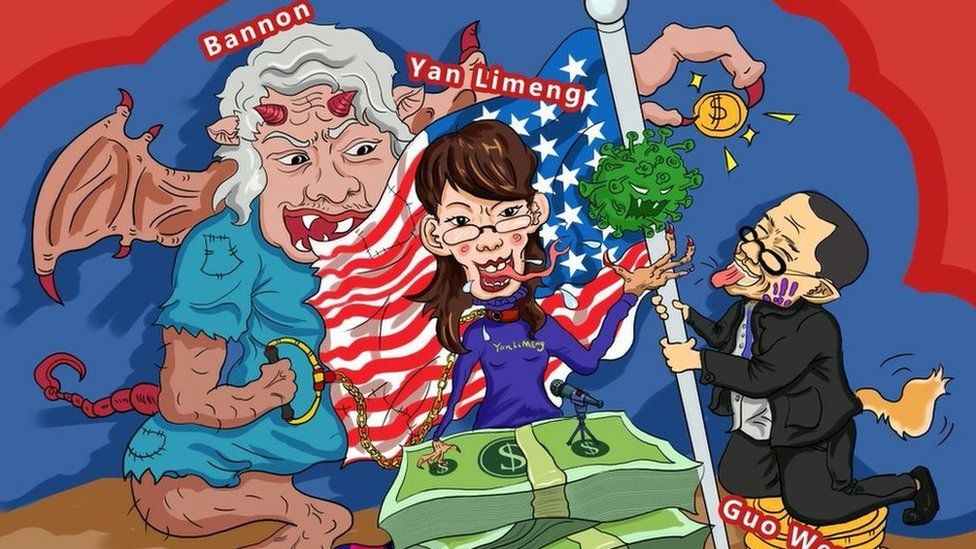 China's multi-platform fake social network
The accounts are across Twitter, Facebook, Instagram and Youtube.
Some of the accounts use entirely fake AI-generated profile pictures, whereas bots appear to have hijacked some other accounts.
There's not concrete evidence that links the network to the Chinese government other than speculation from experts. The CIR says the network resembles other networks Twitter and Facebook have taken down previously.
Who are the fake users?
The researchers found most of the fake profiles use AI-generated faces. A reverse image source cannot search for these images.
The CIR says fake profile pictures in disinformation campaigns are becoming more common. It was able to identify fake images by lining up the position of their eyes.
They say that fake images always tend to put eyes in the same location of an image. Other signs of a synthetic image include blurred hair edges, strangely-angled teeth, and blurred objects around the face.
China responds with campaign against misinformation
This comes as China launches a campaign against fake news to 'cleanse the cyberspace' of 'fake or harmful' information and unlicensed citizen journalists.
The campaign is a joint effort with ten regulatory agencies, which plan on hitting Chinese social media platforms like WeChat and Douyin.
Some of the accounts denied human right abuses in Xinjiang
Some of the fake profiles also denied any human rights abuses against Muslim people in the Xinjiang region. One post called the allegations, "lies fabricated by the United States and the West".
Many of the Facebook accounts appear to have Turkish names. The researchers believe these accounts once belonged to real people before being hijacked or sold.
The network also appears to have hijacked some dormant accounts on Youtube which previously posted in English or German. After being dormant for years, these accounts suddenly started posting Chinese content from official state broadcasters.
EU plans to force USB-C chargers for all phones
EU plans to make USB-C connectors the standard port for all smartphones and tablets, angering Apple
The European Commission rules to force manufacturers to create a universal charging solution for phones and small electronic devices. The European Commission is aiming to have a common charging port for all mobile phones, tablets, cameras, headphones, and handheld videogame consoles.
The ruling has been in the making for a decade, with environmental concerns the main driving force behind the historic move.
Reducing waste
The rule will reduce waste by encouraging consumers to re-use existing chargers when buying a new device. Politicians have been pushing for this uni9versal charging rule for over a decade.
Disposed and unused charging cables generate approximately 11,000 tonnes of waste per year.  Research shows the average person owns around three mobile phone chargers.
A decade ago there were about 30 different types of chargers, now, phones use either USB-C, lightning, and USB micro-B.
Rotten Apple
The move would see all smartphones in the EU sold with the same charger, a motion Apple is not happy about. The tech giant says this move would damage ongoing innovation.
The tech giant is the main manufacturer of smartphones using a custom charging port, as its iPhone series uses an Apple-made "Lightning" connector. Apple argues its Lightning connector is used by one billion active iPhone users.
"We remain concerned that strict regulation mandating just one type of connector stifles innovation rather than encouraging it, which in turn will harm consumers in Europe and around the world,"
Apple spokesperson
The proposed changes would apply to the charging port on the device body and will also standardise charging speeds. It may be a number of years before the proposals come into effect.
It will be thoroughly debated by the European Parliament and national Governments.
Facebook CTO resigns as Zuckerburg announces replacement
Facebook is about to close an important chapter in its history
In some major news, the social network's chief technology officer, Mike Schroepfer is stepping down from his role after a total 13 years at the company.
He'll move to a part-time position as Facebook's first Senior Fellow at some point in 2022.
CEO Mark Zuckerburg has now appointed hardware lead Andrew Bosworth to be the new CTO.
Schroepfer first joined Facebook in 2008 as a vice president of engineering. He took the CTO position in 2013.
American plane maker to open major factory in Australia
Major US-based aircraft maker, Boeing is heading for Australia's sunshine state
The new Boeing manufacturing facility is planned to be built at Toowoomba's Wellcamp Airport in an Australian first.
The facility would be involved in manufacturing the Loyal Wingman unmanned aircraft for the Royal Australia Air Force.
Queensland Premier Annastacia Palaszczuk stated that the Boeing project would bring more than 300 jobs to the area, and was 'very welcome'
The Queensland Government also confirmed that the interior of the aircraft manufactured at the new site would be painted maroon and stamped with "Made In Queensland".
The Loyal Wingman is an unmanned aircraft but works alongside crewed aircraft, with Defence currently examining how it will be deployed once it's put into use.
The new facility isn't the first to be opened and operated by Boeing, with the plane maker also operating sites across Australia's east coast, including in major cities; Melbourne and Sydney.