US infrastructure bill is one step closer after passing hurdle over weekend
The highly anticipated US Infrastructure Bill is one step closer to reality after it passed a key hurdle at the weekend
In what was a highly unusual event, the US Senate met over the weekend to discuss the bipartisan infrastructure bill.
The US Senate plans to pass the bipartisan infrastructure program in what will be a key part of President Biden's policy agenda.
In a 67-27 vote, the final Senate consideration process is all that is left before the bill moves to the House.
Chuck Schumer says the final steps can be done the "easy way" or the "hard way"
At its heart is a trillion-dollar program to help rebuild the backbone of the country; billions for public transit, passenger and rail freight, electric vehicle charging stations, ports and airports, water and wastewater pipes and facilities, environmental cleanup, the electric grids – and more.
As Biden has said: "This is a generational investment — a generational investment to modernize our infrastructure, creating millions of good-paying jobs — millions of good-paying jobs that position America to compete with the rest of the world in the 21st century."
Bi-partisan support and cooperation
For the President, this bill means that Democrats and Republicans can work together; and that doing so shows that the country can come closer together.
The bill is so large that its benefits reach every state. The total cost in real dollars is bigger than what it took to build the US interstate highway system.
So Republicans supporting the deal will get political benefits too in their home states. And that is why enough Republicans are, for the first time, voting on major legislation initiated by Biden.
How will the infrastructure bill be funded?
But a funny thing happened on the way to the forum. A trillion dollars has to be paid for – at least in part. And so the other half of the bill outlines how the infrastructure builds will be funded.
There is unspent Covid-relief money from earlier rescue plans. Unspent unemployment insurance. The timing of a Medicare reimbursement rule. Revenues from spectrum auctions for 5G networks.
And $28 billion by strengthening tax enforcement of the cryptocurrency industry.
The world is on a steep learning curve on crypto, and crypto just got on the same treadmill with Washington.
Washington shorts on crypto
The proposed legislation would expand reporting of broker revenues from crypto
transactions and would also subject elements of the crypto blockchain to greater exposure on capital gains.
At the heart of the debate is how broadly to apply new tax rules to crypto brokers. And it's not a partisan issue.
There are Republicans and Democrats who want more discipline on the industry, and anti-regulation Republicans and pro-privacy Democrats who want no change from the status quo.
And some Democrats believe crypto coin creation is a massively energy intensive process – so there is a global warming tinge to the controversy. Who knew?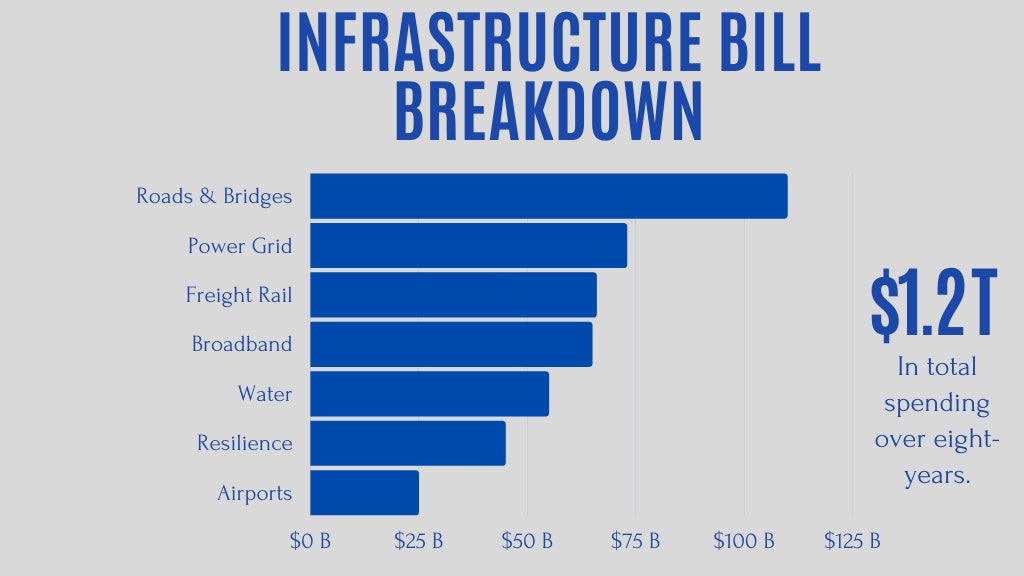 This will be resolved in the Senate – but not for long
Anything in the Senate bill has to get through the House.
And the head of the Securities and Exchange Commission said recently that the agency wants to take a good hard look at the rules that should apply to crypto.
But back to the main game: Biden's agenda for the country is much bigger than just infrastructure, and being prepared for immediate work in the Senate is a $3.5 trillion bill addressing education, health care, climate change and other Democratic priorities.
Republicans will not back this broader legislation
Republicans have refused to advance bills on voting rights, police reform, gun control and other issues at the heart of racial justice and social equity.
Taken as a whole, the Biden program is the most ambitious legislative agenda for the country since Franklin Roosevelt's New Deal, and Lyndon Johnson's Great Society. And it will take near-unanimity among Democrats to pass it.
Biden knows that the passage of all these bills – not just the spending programs but the racial justice issues too – is crucial not just for the county, but for his presidency. And for Democrats in Congress too.
Trump's campaign debut was panned – but don't underestimate his chances
Last weekend, Donald Trump held two events in New Hampshire and South Carolina, his first official forays onto the 2024 presidential battlefield.
The experts panned it.  
A lot of the political class is talking about Trump in the past tense, and not the future, briefing out to the media that his rambling, Fidel Castro-like  monologues bore his audiences silly, that his obsessions and battles with his political enemies do not have the reach they did in 2016 and during  his term in office, that he is immersing himself more deeply in extremist QAnon cult waters, that he faces indictments and trials that will derail his campaign and might even put him in jail.
And more: that Trump wallows in the "stolen" 2020 election, knowing that there was no way he could have lost since he got 12 million more votes than in 2016.  Trump never concedes.  Six years later, he does not acknowledge that Hillary Clinton got almost 3 million more votes than Trump in 2016 – and that he won only because she lost in the Electoral College.
The telling critique – the one driving Republicans in private to say that Trump is done (or should be done, or will be done) is that Trump is a loser. 
That Trump lost Republican control of the House of Representatives in 2018, bringing back Nancy Pelosi who secured not one, but two impeachments of the president; that he lost the White House in 2020; that he lost control of the Senate in January 2021 when Democrats swept both Georgia Senate seats, giving them control of that chamber; and that Trump-backed candidates in Pennsylvania, Georgia, New Hampshire, and Arizona again cost Republicans control of the Senate in the 2022 midterms.   As Vince Lombardi, legendary gridiron coach of Green Bay and Washington, said, "Winning isn't everything, it's the only thing." Lombardi would say Trump was a loser.
Trump is having none of it, and his iron resolve was on full display for those listening more closely when he gave his orations last weekend.
"Maybe he's lost his step," Trump said in evoking the musings of some Republicans. But, "I'm more angry now, and I'm more committed than I ever was."
The anger is palpable.  The Trump 2023 brand joins his anger with the hottest culture war buttons he can press. Immigration, the open wound that is the southern border, the wall he will finish, the rapists and criminals who are flooding in and that he will keep out tomorrow.  Immigration is his lead-off weapon.
Then promises of energy independence and oil forever.  Utter hostility to electric vehicles and wind energy – especially if the windmills are offshore.  No transgender women in sports.  No way they are tolerated.  A purge of woke content from school curricula, schoolbooks, school libraries, and school boards.  Parents empowered to fire the principal of the schools their children attend; Trump says the parents can vote them out of their jobs.
Trump never goes far into the culture wars without conjuring up Hunter Biden, the president's son. 
Trump cannot get enough of Hunter's laptop and the criminality of the Bidens, their business dealings and their money.  We can barely follow all the Trump twists and turns in this tale, but there is no mistake that Trump wants Hunter nailed and his father to bear the consequences.
Reprising his role as Commander-in-Chief, Trump said, in case we have not been paying attention, that we are on the brink on World War III. That Ukraine would not have happened if he had been president. That we could have a peace deal "in 24 hours." Trump wants to call Putin and knows Putin will be waiting for that call.
Trump's great loyalist, South Carolina Senator Lindsey Graham, was on the podium with Trump and put it this way after the event. "How many times have you heard we like Trump's policies but we want somebody new? There are no Trump policies without Donald Trump."
That's the message Trump delivered to his base last weekend. And that's how Trump intends to win.
Buried in Trump's massive monologue was the core of what could be a winning message. "My mission is to secure a middle-class lifestyle for everyone. I did it before and I will do it again. And we will be respected in the world once again."
Three powerful sentences which, coupled with the red meat of his anger and rage, mean that Trump is very much alive and kicking.
Leading athletes and medical experts push for medicinal cannabis in sport
Leading lawmakers, medical experts and athletes are pushing for therapeutic use of medicinal cannabis for chronic pain and injury
Basketball star Brittney Griner is one of the leading players of her generation. She jumped into the spotlight for serving a sentence for possession of cannabis oil in Russia.
It begs the question whether medicinal cannabis and athletes are a good mix. Well, many lawmakers, health experts and athletes around the world want to break down the stigmas associated with its use.
Many want to use Griner's ordeal as motivation to change cannabis laws and therapeutic use exemptions in sports.
Mark Brayshaw, Managing Director of Levin Health has spoken closely with Dr. Peter Brukner who is a world-renowned Australian sports medicine clinician and researcher.
Brukner believes athletes should be able to compete in their field with medicinal cannabis because it doesn't enhance their performance.
Brayshaw believes there are higher risks for athletes becoming addicted to anti-inflammatory and opioids. As opposed to any risks associated with taking medicinal cannabis.
He explains it enables athletes to function in a healthy way, pain free.
Overall, there is hope Griner's case will break down stigma surrounding natural medicines and athletes.
In Australia, there are tens of thousands of new applications for medicinal cannabis every month.
There are also growing calls for countries to adopt therapeutic use exemptions in sport, including in the Australian Football League.
Why is China's changing its strategy to handling the pandemic?
Changes to China's COVID policies are coming thick and fast, much faster than many people anticipated given how strict the country has been in the last few years, the latest big announcement is around an app that people had to install on their phone
Then it tracked them when they travelled across the country, alerting them if they've been to a high risk COVID area, the government says that that app is now deactivated and people no longer have to have it installed on their phones.
It's yet another indication of the change in China's strategy to handling the pandemic.
We've seen changes related to quarantine, and also testing as well. And a real change in narrative from the authorities when talking about the virus and how dangerous it is. Now officially case numbers are dropping.
But that is largely due to the fact that much less testing is taking place, and we are seeing signs that in reality cases are surging.
There's queues of people outside of pharmacies, queuing to get medication for colds and for fevers, and also self testing kits as well.
On social media, many people in China now saying that they have caught COVID For the first time, or that they know a number of people who have COVID When previously they didn't know anyone at all.
So it's clear that cases are rising, and this is coming just the month before the Chinese New Year holidays, which will take place at the end of January, traditionally a time when millions of people will travel across the country.
We would expect that to happen this year, as travel within China is now much easier.
So we would expect COVID cases to spread across the country talking to travel and is yet no sign of when the borders will open internationally.
Still very, very hard to get into China and very strict. When people do enter and the procedures they have to follow.
Maybe the government will wait and see how the first phase of reopening goes domestically, before thinking internationally?