Hong Kong police make first arrests at Tiananmen Square vigils
Hong Kong police have arrested a prominent barrister for allegedly promoting an unauthorised protest on the anniversary of the Tiananmen Square massacre, as thousands of officers were deployed to enforce a ban on protests and gatherings across the city.
Hong Kong deployed 7,000 police to prevent protests, but human rights groups have continued to urge authorities to let residents express their views peacefully.
The operation includes dispatching some 3,000 officers near Victoria Park, the site of an annual vigil commemorating the 1989 incident.
While the police wouldn't confirm the number of officers attending, a spokesperson says there will be enough police at the vigil.
Authorities arrested Hong Kong barrister and activist Chow Hang Tung, vice-chairwoman of the group which organises annual vigils for the victims of China's 1989 crackdown on pro-democracy protesters.
Chow was arrested for promoting an unauthorised assembly
Discussion of Beijing's brutal military crackdown on the evening of 3 June and morning of 4 June in 1989 is all but forbidden on the mainland.
Hong Kong's traditional status as the only place in China where large-scale commemorations were tolerated appeared to be coming to an end.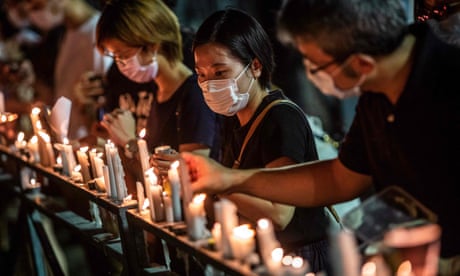 Authorities banned this year's gathering citing the coronavirus pandemic – although Hong Kong has not recorded an untraceable local transmission in more than a month, and has continued to hold large public events.
Police have also cited the national security law in warning people not to gather for unnamed events and reminded the public of the recent convictions of some activists.
Indonesia's inflation soars to a 5-year high
Indonesia's inflation rate has hit a five-year high, as businesses continue to pass rising costs onto consumers
As countries around the world deal with the rising cost of living, Indonesia's inflation rate has exceeded predictions.
The country's consumer price index rose just above 4 percent in June, which is the biggest year-on-year climb since 2017.
This blew the Bank of Indonesia's estimates out of the water, with the Bank expecting a rise of between 2 and 4 percent.
Experts say June's inflation was largely triggered by red chilies, cayenne pepper, cooking oil, and shallots.
Prices of food, beverages, and tobacco all rose above 8 percent, and transportation is also helping drive inflation, especially in airline passenger fees due to high fuel costs.
Several dead after horror shooting at Copenhagen shopping centre
Several people are dead after a gunman opened fire at a shopping centre in Copenhagen
A mass shooting incident in one of Denmark's largest shopping centres has left several people dead and others injured.
A 22-year-old Danish man has been arrested, with police refusing to rule out the attack being an act of terrorism.
Authorities arrived at Field's mall in the Danish capital late on Sunday afternoon local time, as people were told to stay put and wait for assistance.
Local media has published images of terrified shoppers running for safety, with eyewitnesses describing panic as gunfire echoed through the shopping centre.
Singer Harry Styles was due to perform in the city, but the concert has been cancelled. Attendees have asked to leave Copenhagen's Royal Arena.
The multi-storey shopping mall where the attack occurred is around 5 kilometres south of downtown Copenhagen.
U.S. watching China 'very closely' over Taiwan
The United States is watching China 'very closely', but a top official says an attack on Taiwan is 'not imminent'
China views Taiwan as a breakaway province that must be reunified with the mainland, and by force, if necessary.
United States Chairman of the Joint Chiefs of Staff Mark Milley told the BBC that China is developing a capability to attack Taiwan at some point in time.
Milley says whether or not the nation does this is a political and policy choice, based on how the Chinese view the cost and risk-benefit at the time.
Beijing has accused Washington of supporting Taiwan's independence vowing to 'crush' any such attempt.
Back in May, U.S. President Joe Biden said China was "flirting with danger" by flying warplanes close to Taiwan. The President has vowed to protect the island militarily if required.