Covid-19 Minister could be Japan's next Prime Minister
Following Japan's Prime Minister Yoshihide Suga announcing that he will be stepping down from his position, several front runners have emerged for the race to leadership.
Japan's minister in charge of Covid-19 vaccines, Taro Kono, is being viewed as the most likely candidate, with a former internal affair minister also receiving support from party members.
The ruling Liberal Democratic Party, or LDP, will soon choose the individual that will lead the group to the next federal election.
The minister responsible for Covid-19 hasn't confirmed his intention to run for the position yet, saying he wishes to speak with his colleagues first and then decide.
It has been reported that the minister will receive the support of Japan's current PM, Suga, giving him a substantial popularity boost.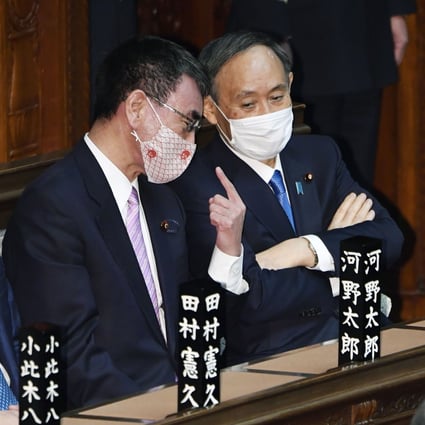 Meanwhile, an internal affairs minister Sanae Takaichi, is expected to be one of two women pushing to become the country's first female leader.
North Korea fires short-range ballistic missile
The launch continues a provocative streak in weapons testing as a US aircraft carrier visits South Korea
The launch was detected by South Korean and US militaries, who are currently conducting their annual joint military exercises in the region.
The US aircraft carrier USS Carl Vinson is also taking part in the exercises, in a show of force against North Korea's continued nuclear and missile testing.
North Korea has conducted a series of missile and nuclear tests in recent months, despite international condemnation and UN sanctions.
The latest launch comes just days after North Korea test-fired a new type of anti-aircraft missile, and as the US prepares to deploy its THAAD anti-missile system in South Korea.
The US has also sent a naval strike group to the region in a show of force, and is reportedly considering additional sanctions against North Korea.
Super Typhoon Noru smashes into the Philippines
Super Typhoon Noru is continuing to strengthen as it approaches the northern Philippines.
The storm is expected to make landfall late Sunday afternoon local time and could bring damaging winds and heavy rains to the region.
Noru is currently a Category 3 storm on the Saffir-Simpson Hurricane Wind Scale, with maximum sustained winds of 115 mph (185 km/h).
The typhoon is expected to bring heavy rains and strong winds to the Philippines, which could lead to significant damage.
If you are in the path of Super Typhoon Noru, be sure to take all necessary precautions to protect yourself and your property from the storm.
Stay tuned to local news and weather reports for the latest information on the typhoon's path and expected impacts.
Iran cuts internet access over "hijab violation"
Iranian authorities say they will restrict internet access in the country until calm is restored to the streets
Protests over the death of a young woman in the custody of the morality police continue to rock the Islamic Republic.
Thousands of Iranians have taken to the streets in protest since the death last week of 22-year-old Mahsa Amini, who was apprehended in Tehran and taken to a "re-education center," apparently for not wearing her hijab properly.
Amini's death has sparked outrage among Iranian women, who have long been subject to repressive rules mandating their dress and behavior.
In recent years, the government has stepped up its enforcement of these rules, with morality police attacking women for offenses such as wearing loose headscarves or talking to men in public.
The death of Amini, who was reportedly beaten in custody, has galvanized young Iranians who are fed up with the repression they have faced for their entire lives.
In addition to taking to the streets, they are using social media to spread the word about the protests and to call for an end to the government's oppressive policies.
It remains to be seen whether the current wave of protests will lead to lasting change in Iran. But one thing is clear: the country's young people are no longer willing to tolerate the status quo.