Was leaving Afghanistan a good decision for Biden? | Ticker VIEWS
President Biden made the right strategic decision on Afghanistan: here's why. Written by Bruce Wolpe, US political contributor for Ticker NEWS.
Despite criticism, US President Biden made the right decision to end the war in Afghanistan and bring American troops home.
Moreover, he ended it for the right reasons. After 20 years, thousands of soldiers have been killed or wounded. The US has incurred over a trillion dollars in costs.
The objective of removing Afghanistan as a terrorist threat to the homeland and US allies had been long achieved, and the nation-building efforts could go no further.
Yet when the moment of truth for the Afghan government and armies arrived, with the Taliban sweeping the county, the Afghan president fled and their forces dispersed.
But the tactical execution of the decision has fallen terribly short, as the world has witnessed over the past several days.
What we saw in Afghanistan just two weeks ago was a real-world intelligence failure playing out in real time.
If US intelligence hadn't assured Biden, he wouldn't have told the American people in July that the agonising crisis of Saigon in 1975 wouldn't be repeated in Afghanistan.
This failure in intelligence is why Biden, US allies across the world and those who served the cause in Afghanistan are facing this crisis today
The only solution – Biden's imperative – is to bring this humanitarian ordeal to a successful conclusion.
And a successful conclusion can only be achieved by firmly getting a grip on security on the ground in Kabul for those who need to be evacuated to minimise any further loss of life.
The worst-case, catastrophic scenario would be if the Taliban or other terror groups killed or took hostages from those seeking freedom in the West. Such a terrorist threat is real
In his remarks to the country this morning, Biden restated his firm conviction about the war in Afghanistan.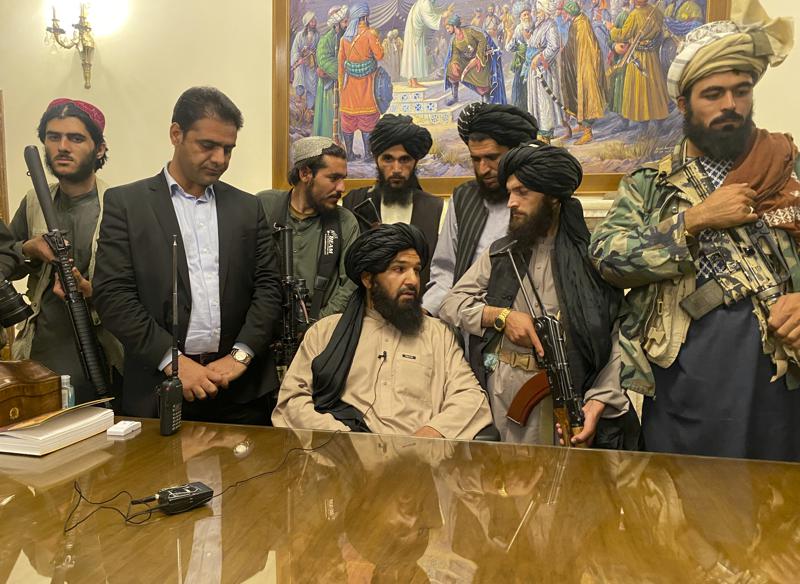 "I think history will record this was the logical, rational, right decision to make."
This morning, Biden outlined a series of measures underway to safely evacuate those needing to leave the country. After this, they will be processed in a third country.
Despite this, Biden acknowledged there was still a long way to go.
In raw political terms, Biden has taken a hit from this crisis
While not a surprise in the wake of days of headlines of the chaos in Kabul, Biden's approval has slid to at or under 50% in most polls.
While his decision to exit Afghanistan is popular (60%+), Biden's handling of the crisis is far lower.
This crisis has severely tested his foreign policy team and America's relationship with its allies, especially in Europe
But there is no good time for a crisis. This one is unfolding as Congress begins to return from its summer break to take decisive votes on Biden's enormous domestic political agenda.
Biden's fate rests on completing the exit from Afghanistan successfully, and winning votes in Congress on his agenda.
As could be seen today, this president is not short of confidence in adversity. He will need every ounce of it he has.
Ukraine prepares for a summer of violence
Is support for the war waning after the conflict has surpassed 1-year and millions of dollars?
After a Russian air assault on Kyiv in which one civilian was killed, residential buildings in wealthy districts of Moscow were hit by multiple drone strikes injuring two people.
The Kremlin is claiming that most of the drone strikes which happened during broad daylight—were intercepted.
A Russian politician said the attack on the capital was the most dangerous since World War II.
Russia says Ukraine launched the attack and has vowed to bolster their air defenses.
Meanwhile, Ukraine is denying direct involvement, having just recently suffered three air attacks within a 24-hour time span.
Last month, leaked Department of Defense documents revealed possible weak links in Ukraine's military campaign against Russian forces.
Russian President Vladimir Putin invaded Ukraine with tens of thousands of troops more than a year ago and there appears to be no end in sight.
"I think there is a great risk": will AI steal our jobs?
Artificial Intelligence has become an increasingly powerful and pervasive force in our modern world.

Artificial intelligence is not a new concept. However, the growing advancements have the potential to revolutionise industries, improve efficiency, and enhance the quality of life.
Along with its promising advancements, artificial intelligence also brings certain risks and challenges that must be acknowledged and addressed.
It has become the focus of lawmakers, who are working towards greater regulation of the sector.
U.S. and European Union officials recently met in Sweden to weigh up the benefits and challenges of artificial intelligence, and other emerging technologies.
"The AI process is creeping up on us," said Dr Keith Suter, who is a global futurist.
"You've got competition between companies."
It's almost like some of us can see this raft that's heading towards the rapids and a disappearance towards the waterfall, and we're giving a warning but it's not being heeded because everybody's in this race to get down to the river," Dr Suter said.
Should there be more resources available to American Veterans?
Millions of Americans have served the country, but is there enough support for veterans?

Over the course of the nation's history, the United States has declared war and fought in conflicts around the world with more than 41-million Americans having fought for freedom.
There are millions of Veterans in the United States who proudly served their country. But, are there enough services to help and support veterans– especially those who suffered atrocities during conflicts?
U.S. Army Veteran Ricoh Danielson joins us to discuss. #uspolitics #Ricoh Danielson #veterans #military #supportveterans #veronicadudo #freedom