Was leaving Afghanistan a good decision for Biden? | Ticker VIEWS
President Biden made the right strategic decision on Afghanistan: here's why. Written by Bruce Wolpe, US political contributor for Ticker NEWS.
Despite criticism, US President Biden made the right decision to end the war in Afghanistan and bring American troops home.
Moreover, he ended it for the right reasons. After 20 years, thousands of soldiers have been killed or wounded. The US has incurred over a trillion dollars in costs.
The objective of removing Afghanistan as a terrorist threat to the homeland and US allies had been long achieved, and the nation-building efforts could go no further.
Yet when the moment of truth for the Afghan government and armies arrived, with the Taliban sweeping the county, the Afghan president fled and their forces dispersed.
But the tactical execution of the decision has fallen terribly short, as the world has witnessed over the past several days.
What we saw in Afghanistan just two weeks ago was a real-world intelligence failure playing out in real time.
If US intelligence hadn't assured Biden, he wouldn't have told the American people in July that the agonising crisis of Saigon in 1975 wouldn't be repeated in Afghanistan.
This failure in intelligence is why Biden, US allies across the world and those who served the cause in Afghanistan are facing this crisis today
The only solution – Biden's imperative – is to bring this humanitarian ordeal to a successful conclusion.
And a successful conclusion can only be achieved by firmly getting a grip on security on the ground in Kabul for those who need to be evacuated to minimise any further loss of life.
The worst-case, catastrophic scenario would be if the Taliban or other terror groups killed or took hostages from those seeking freedom in the West. Such a terrorist threat is real
In his remarks to the country this morning, Biden restated his firm conviction about the war in Afghanistan.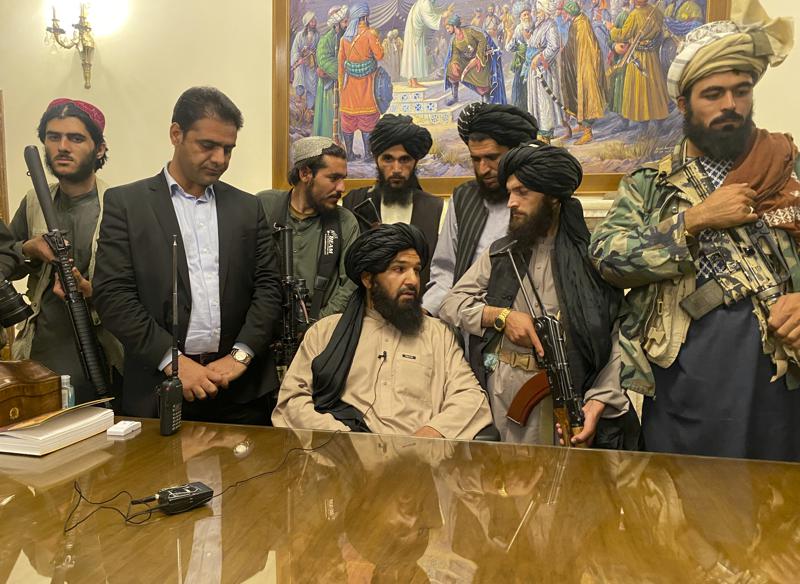 "I think history will record this was the logical, rational, right decision to make."
This morning, Biden outlined a series of measures underway to safely evacuate those needing to leave the country. After this, they will be processed in a third country.
Despite this, Biden acknowledged there was still a long way to go.
In raw political terms, Biden has taken a hit from this crisis
While not a surprise in the wake of days of headlines of the chaos in Kabul, Biden's approval has slid to at or under 50% in most polls.
While his decision to exit Afghanistan is popular (60%+), Biden's handling of the crisis is far lower.
This crisis has severely tested his foreign policy team and America's relationship with its allies, especially in Europe
But there is no good time for a crisis. This one is unfolding as Congress begins to return from its summer break to take decisive votes on Biden's enormous domestic political agenda.
Biden's fate rests on completing the exit from Afghanistan successfully, and winning votes in Congress on his agenda.
As could be seen today, this president is not short of confidence in adversity. He will need every ounce of it he has.
Russia will formally annex Ukraine regions Friday
Russia will formally annex four more areas of Ukraine on Friday, after self-styled referendums in those regions yielded overwhelming support for the move.
The Russian-backed officials who organized the votes said that nearly all of those who cast ballots supported the annexation. The referendums were held in Luhansk and Donetsk in the east, and in Zaporizhzhia and Kherson in the south.
Russian President Vladimir Putin is expected to make a major speech at the Kremlin following the signing ceremony. Ukraine and the West have condemned the referendums as a sham, but Russia has long claimed that the people of those regions want to be part of the Russian Federation.
The annexations are likely to further escalate the tensions between Russia and the West, which have been at loggerheads over Ukraine since Russia's annexation of Crimea in 2014. Friday's move is sure to be met with condemnation from the international community.
Russia has long claimed that the people of those regions want to be part of the Russian Federation. The annexations are likely to further escalate the tensions between Russia and the West, which have been at loggerheads over Ukraine since Russia's annexation of Crimea in 2014. Friday's move is sure to be met with condemnation from the international community.
"These are the guys?" Putin's Dad's army – READ HERE
Chinese leader Xi Jinping makes his return to the public eye
Chinese leader Xi Jinping has made his public appearance since returning to China
The President recently left his country for the first time since the start of the pandemic.
He quashed rumours of a coup, which sent shockwaves through social media ahead of an important Communist Party meeting.
On Tuesday, he visited an exhibition showing of China's achievements during his time in power.
Of course, this comes as tensions continue to simmer in the Taiwan Straits.
IRAN PROTESTS | Are countries using religion as an excuse to violate basic human rights?
Iran protests are engulfing the country as thousands take to the streets in a revolution against oppression
IRAN PROTESTS – The story of Iran is one of a country that has been through a lot in recent history.
An uprising of both men and women has engulfed Iran, following the death of Mahsa Amini. Women are cutting their hair and burning their hijabs, demanding some form of change to the strict rules that impact their ultimate freedom.
From the Iranian Revolution in 1979 to the Iran-Iraq war in the 1980s, the nation's residents have witnessed their fair share of turmoil.
Many insist that religion, like Islam, is being used as a reason to violate basic human rights in Iran.
There is a feeling of discontent among the Iranian people. The economy is struggling, and many young Iranians feel they have no future.
They are fed up with the corruption of the government and the lack of opportunity.
Mahsa Amini's brutal death
On top of this is the death of Mahsa Amini, a 22-year-old Kurdish-Iranian woman.
Amini was arrested by the so-called morality police for "improperly" wearing her mandatory hijab.
Reports suggest she was beaten so severely that she went into a coma.
Three days later, she died, and many suspect it was a direct result of this police brutality.
Amini's death has fuelled further anger and extreme protest, with widespread condemnation from Iranians, denouncing her death and the regime that caused it.
The incident has brought attention to the plight of many Iranians who feel they are living under an oppressive regime.
While it is difficult to predict what will happen next in Iran, many hope the death of Amani will not be in vain.
Many pray the protests will lead to real action and a country where women are treated as equals. They want a country where there is opportunity for all.
Women in Iran and around the world are now lifting the veil on Iran's corruption and human rights violations.
In 2022, many are angry that men are controlling what women do with their bodies and what they wear.
However, the Founder and Director of Cyrus Forum and Senior Fellow at Macdonald-Laurier Institute Mariam Memarsadeghi explained its women who are enforcing the strict rules too.
Will this drive change?
In Iran, many young Iranians are showing the world they don't want this system any more, that they want democracy.
They're cutting their hair and burning their hijabs, they're putting their own safety on the line to take a stand against the regime that has silenced them for so long.
This generation is very different, but it doesn't guarantee that this uprising will fuel any real change.
However, Memarsadeghi said "there is no way back from here."
How can organisations and world leaders help?
Iran is in the midst of a political upheaval and the world is watching.
Scenes of protest and violence are being shared far and wide on social media. The world has a front-row seat to the unfolding crisis.
However, the Iranian Government has responded by imposing a sweeping internet ban, cutting off the protesters from the outside world.
This only adds to the urgency of the situation, as Iran's people are now risking their lives to speak out against their oppression.
World leaders and democracy advocacy groups are already discussing ways to help the people of Iran and hold their violations to account.