National security act: bipartisan senators propose bill against war
Three US senators proposing new bipartisan legislation that would give congress the power to approve or deny war missions
Three bipartisan US senators are proposing to introduce sweeping legislation that would give Congress the power to approve or deny war missions. Independent senator Bernie Sanders, Democrat Chris Murphy as well as Republican Mike Lee are working on the bill.
The senators are proposing this legislation to re-assert congressional authority over war-making power. The 'National Security Act' will include sending troops into combat, selling lethal weapons to other countries and declaring national emergencies.
Sending troops into combat, selling lethal weapons and national emergencies
The current policy only gives congress the ability to disapprove sales once the process has already started. It requires a veto-proof majority to halt the sale.
The bill would end permanent emergencies, requiring congress to renew them periodically. Congress would also only be able to enact a state of emergency for a maximum of 5 years.
It also bars using the International Emergency Economic Powers Act to impose tariffs. However, officials can still use the act still to ban imports entirely.
Strengthening the 1973 War Powers Resolution
It would be the largest overhaul of Congress's authority over military matters since the War Powers Resolution. Congress introduced the 1973 bill to check the powers of former president Richard Nixon in reaction to the tumult of the Vietnam War.
In this case, the bipartisan legislation comes as the US withdraws from its longest war in Afghanistan. Sanders says the costs of war are "too great".
Which senators are proposing the National Security Act?
Independent senator Bernie Sanders, Democrat Chris Murphy as well as Republican Mike Lee are working on the war bill.
Mike Lee
Mike Lee is a conservative Republican who has previously expressed frustration with the use of military force from both parties. In 2020, he criticised the Trump administration for carrying out a targeted airstrike in Iraq without congressional approval. He says that presidents often ignore Congress, even when members do speak up.
"Presidents of both parties have usurped Congress's prerogative to determine if, when, and how we go to war"

Republican Mike Lee
"Now, America's global standing, treasure, and brave service members are being lost in conflicts the people's legislators never debated. In areas where the Constitution grants broad powers to Congress, Congress is ignored."
Bernie Sanders
Progressive independent senator Bernie Sanders says the legislation comes as an "important step toward reasserting constitutional power".
"The time is long overdue for Congress to reassert its constitutional role in matters of war and peace"

Bernie Sanders
"I hope it will lead to a larger discussion, both in the Congress and among the public, about the uses of military force in our foreign policy."
Chris Murphy
Chris Murphy is a Democrat. He warns that, "before it's too late, Congress needs to reclaim its rightful role as co-equal branch on matters of war and national security."
Melbourne enters sixth lockdown as new cases emerge
Melbourne has entered a snap- lockdown for the sixth time amid three new cases of community transmission
Melbourne entered lockdown number six as authorities continue to scramble to contact trace three new cases of community transmission.
Authorities are considering a three-day snap lockdown to throw a ring around Victoria's latest Covid outbreak.
Victorian Health Minister Martin Foley says he expects more than 10,000 primary close contacts linked to new outbreak.
The government and health authorities are locked in discussions about whether a lockdown is required in Melbourne.
This comes less than two weeks since Melbourne's last lockdown came to an end
There are seven people with Covid-19 in Victorian hospitals. This includes two people in intensive care, who are both on ventilators.
Victorian Covid-19 response commander Jeroen Weimar says authorities have identified two more cases linked to a Hobsons Bay couple in Melbourne's west.
This brings the state's daily total to seven cases.
Al-Taqwa College cluster
Health officials are concerned that a teacher at Al-Taqwa College may have infected several people in the community.
The teacher, a woman in her 20s, lives in the Hobsons Bay local government area.
Authorities believe was was infectious in the community for three days last week.
One of her household contacts has also tested positive.
Researchers reveal China's huge network of fake social media profiles
A new study has revealed that China is using a network of fake social media profiles to push pro-China rhetoric and discredit opponents
Researchers have uncovered a sprawling network of over 350 fake social media profiles China's using to push a pro-China rhetoric.
According to the Centre for Information Resilience (CIR) report, the network's goal is to delegitimise the West and improve China's international perception.
Fake users in the network shared large amounts of content about issues like gun laws and race politics. The fake users also used the accounts to criticise opponents to the regime.
The study found a network of fake profiles circulating political cartoons
The cartoons negatively depict critics such as exiled Chinese tycoon Guo Wengui, whistleblower scientist Li-Meng Yang, and Steve Bannon, former political strategist for Donald Trump.
China has accused all of them for spreading disinformation including incorrect information about Covid-19.
The network also used the accounts to highlight human rights concerns in the US. Some of the posts cited the murder of George Floyd and hate crimes against Asians.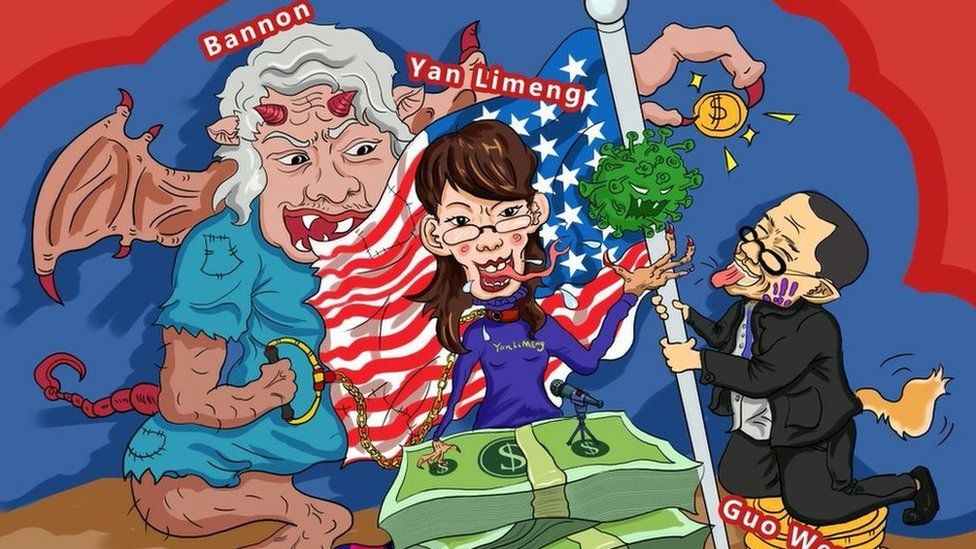 China's multi-platform fake social network
The accounts are across Twitter, Facebook, Instagram and Youtube.
Some of the accounts use entirely fake AI-generated profile pictures, whereas bots appear to have hijacked some other accounts.
There's not concrete evidence that links the network to the Chinese government other than speculation from experts. The CIR says the network resembles other networks Twitter and Facebook have taken down previously.
Who are the fake users?
The researchers found most of the fake profiles use AI-generated faces. A reverse image source cannot search for these images.
The CIR says fake profile pictures in disinformation campaigns are becoming more common. It was able to identify fake images by lining up the position of their eyes.
They say that fake images always tend to put eyes in the same location of an image. Other signs of a synthetic image include blurred hair edges, strangely-angled teeth, and blurred objects around the face.
China responds with campaign against misinformation
This comes as China launches a campaign against fake news to 'cleanse the cyberspace' of 'fake or harmful' information and unlicensed citizen journalists.
The campaign is a joint effort with ten regulatory agencies, which plan on hitting Chinese social media platforms like WeChat and Douyin.
Some of the accounts denied human right abuses in Xinjiang
Some of the fake profiles also denied any human rights abuses against Muslim people in the Xinjiang region. One post called the allegations, "lies fabricated by the United States and the West".
Many of the Facebook accounts appear to have Turkish names. The researchers believe these accounts once belonged to real people before being hijacked or sold.
The network also appears to have hijacked some dormant accounts on Youtube which previously posted in English or German. After being dormant for years, these accounts suddenly started posting Chinese content from official state broadcasters.
Why does the WHO think we shouldn't be getting Covid-19 booster shots?
The World Health Organisation has called for a suspension on COVID-19 booster shots until at least the end of September
The World Health Organisation has called for an end of Covid-19 vaccine booster shots. It is advising that all countries pause the rollout of booster shots until at least September. This would allow for at least 10 percent every country's population to get a jab.
"We cannot accept countries that have already used most of the global supply of vaccines using even more of it, while the world's most vulnerable people remain unprotected," said Tedros Adhanom Ghebreyesus, Director-General of WHO.
This follows some countries announcing plans to administer a third dose. Both Israel and Germany have announced such plans amid growing concerns about the Delta variant.
The WHO believes poorer nations are falling behind
However, Dr Tedros believes poorer nations are falling behind. Many countries are struggling to administer their populations a first dose, while wealthier nations are able to dispense booster shots.
"We need an urgent reversal, from the majority of vaccines going to high-income countries, to the majority going to low-income countries," he said.
This comes amid the release of new data showing that low-income countries have only been able to administer 1.5 doses for every 100 people due to a lack of supply.
The "sprint to September"
This comes as the WHO calls for a moratorium on booster shots until at least the end of September.
In some countries like Haiti and the Democratic Republic of Congo, none of the population has received two doses of any vaccine.
Meanwhile, Indonesia has only fully vaccinated 7.9 percent of its population. This comes as the Delta variant continues to run rampant across the nation.